Travis Mayweather

Vital statistics

Position
Ensign
Age
Born 2126
Status

Physical attributes

Height
Weight
Travis Mayweather was a Human Starfleet officer who served as the primary watch helmsman during the historic voyage of Enterprise NX-01, holding the rank of ensign.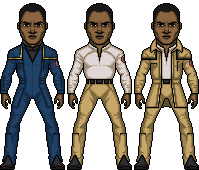 Mirror Universe
Edit
Travis Mayweather
Mirror Universe

Vital statistics

Position
Sergeant
Age
Status

Physical attributes

Height
Weight
Sergeant Travis Mayweather was part of the MACO unit aboard the ISS Enterprise (NX-01) in 2155.
In that year, Mayweather assisted in Commander Jonathan Archer's mutiny against Captain Maximilian Forrest. Archer then assigned Mayweather to be his personal guard, promising him better food, his own quarters, and several other privileges.
Ad blocker interference detected!
Wikia is a free-to-use site that makes money from advertising. We have a modified experience for viewers using ad blockers

Wikia is not accessible if you've made further modifications. Remove the custom ad blocker rule(s) and the page will load as expected.