Welcome to the Star Trek microheroes Wiki
Edit
Star Trek Microheroes is a collaborative project to illustrated the Star Trek Universe in micro-heroes form. This Wikia includes all licensed works (TV Series, Films, Novels, Comics, Video games, ect.) and non-licensed Fan-made Films.  We even have a Fan made section to included your own universe.  
The text for profiles is largely based on the Memory Alpha, Memory Beta, Star Trek Expanded Universe in order to explain who or what the micros represent.  
Please feel free to browse, or even better, contribute.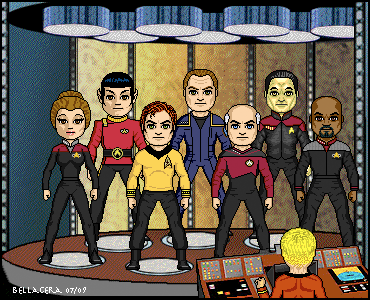 Fan Section
---
This project contains 643 articles and 2,084 images.
---
Related Wikis
Edit
• History/How to make Micro Heroes • DC Microheroes • Image Microheroes • Marvel Microheroes • Star Wars Microheroes • Star Trek Microheroes • Doctor Who Microheroes • Stargate Microheroes • Independents Microheroes • Tokusatsu Microheroes • Micro-Heroes Compendium • Main Portal •
---
Latest activity
Edit
Ad blocker interference detected!
Wikia is a free-to-use site that makes money from advertising. We have a modified experience for viewers using ad blockers

Wikia is not accessible if you've made further modifications. Remove the custom ad blocker rule(s) and the page will load as expected.